LODGING
Relocating to Nevada
Moving to a new state can make you feel like you are moving to a different country. Keep in mind that before you move that you will need a good plan that involves a checklist of things in order to stay on track. Fortunately, since you may only be moving to Nevada for a very short period of time, your checklist will be considerably shorter than most.
Housing Accomodations
For you to obtain a divorce or annulment (unless married in Nevada or have LES showing Nevada residence) in Nevada, one party must be a resident of Nevada for 6 weeks. The court will require an affidavit of a Resident Witness stating that he/she witnessed you living in Nevada for at least 6 weeks. Residency can be established by renting, owning or leasing a dwelling place. Housing units may be identifed to assist your search in on-line classified sections of the:
♦ Reno-Gazette Journal
♦ Las Vegas Review Journal
Those newspapers have many listings that might assist your search. Military persons with Nevada listed on your LES may seek a divorce or annulmnt even though you may be residing elsewhere. We suggest you verify your LES status with your commanding officer.
Moving Companies
Your stay in Nevada may be brief, however, if you are going to move to Nevada and stay for more than just 6 weeks or so, you may want to hire a professional cross-country moving company to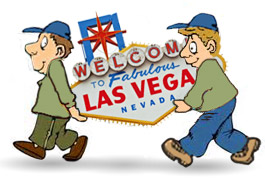 move your furniture and belongings. To achieve this, you have to organize your move and find a reliable moving company. The American Moving and Storage Associationrecommends using only companies that they certify. These certified moving companies conform to the industry's code of conduct when it comes to quality moves. Only 100 companies have volunteered to participate in the Certified Mover Program, making the companies a small but qualified group of quality movers. Click here to search for certified movers.
Cost of Living
Even a short stay away from your present comfort zone can take a toll on your pocket book. Consider the cost of living in Nevada compared with the state where you live now. Determine whether your salary in your home state will cover the difference in Nevada. Click here to use a comparative calculator to determine how far your money will go in Clark County as compared to where you live now.
Transportation
An out-of-state move may quickly bring into focus the need to find certain government agencies. For a Nevada annulment you don't need a driver's license but if your planning on really getting around Nevada, you'll need to register your car in your new locale, obtain a new driver's license with a certain period of time, pay different amounts of sales tax and possibly start or stop paying state taxes, depending on where you move to and from. People relocating to Nevada have exactly 30 days to obtain a Nevada driver's license. New Nevada residents have 60 days after establishing residency to register their vehicles at the DMV. It's recommended that individuals obtain their driver license and vehicle registration at the same time. To register an out-of-state vehicle, you will need your most recent registration, out-of-state license plates, a Nevada smog check (depending on updated laws) and a VIN check. Out-of-state insurance is not accepted and you will need to transfer to a Nevada insurance provider prior to registering your vehicle.
Online Renewal – About 30 percent of registration renewals are completed online. Locations and lists of online services are available at the DMV website. Learn as much as you can before you make the move, such as the fees involved and the deadlines for changes. A DMV guide specifically for new residents is available here »
Public Transportation – If you're against going through the hoopla of getting a new drivers license and car registration, then you're going to need to find out about buses, taxi and shuttle companies. It's not a bad idea for people to educate themselves about transportation options in Nevada.
♦ Shuttle
♦ Taxi
♦ Bus
♦ Share a Ride